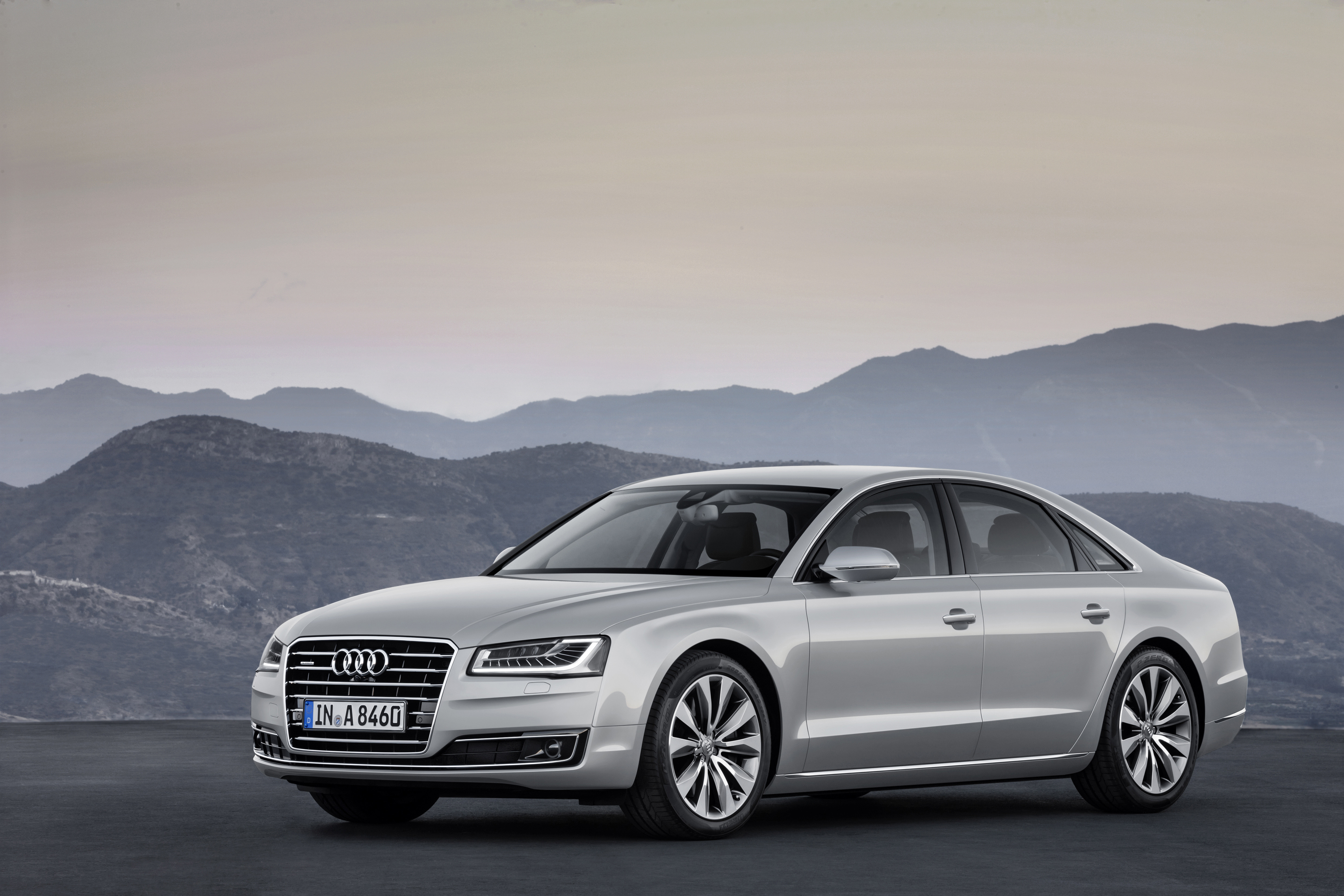 New for 2016
Luxury standout Audi A8 comes to consumers this year with a few exciting changes. The 2016 Audi A8 — dubbed the A8 Sport — features a sportier look, with new fascias in the front and the rear, as well as a different trim level than models in previous years. The A8 2016 no longer comes with the option of having short-wheelbases, which were offered in previous years with the 3- and 4-liter gas engines.
Unrivaled Luxury and Impeccable Design
The Audi A8 is known for being the most understated of ultra-luxury German sedans: It's sleek and powerful without being flashy. This year, the Audi A8 comes with 450 horsepower, lightweight ASF construction, and a bold Singleframe grille, which helps make a statement. Inside the car, drivers will be in command with cockpit controls that can make their rides more comfortable and entertaining — all with the touch of a button. This makes this German luxury car stand out against competitors like the BMW 750Li and 550Li.
Powertrains and Performance
Drivers who choose the Audi A8 will have a choice of four different engines: a new supercharged 3.0-liter V6, a turbocharged V8, a 3.0-liter turbodiesel six-cylinder, and the classic carryover W12 (6.3-liter normally aspirated engine).
The 3.0-liter engine gives drivers the best bang for their buck. It creates 333 horsepower and 325 pound-feet of torque. With this engine equipped, the A8 can go from zero to 60 in 5.5 seconds, topping out at 130 mph.
The diesel-powered A8 TDI utilizes a turbocharged 3.0-liter V6 that's good for 240 hp and 428 lb-ft of torque. Drivers concerned with fuel economy are encouraged to explore the A8 TDI, as it earns an EPA-estimated 36 highway fuel economy.*
With the turbocharged V8, power output is rated at 435 horsepower and 444 pound-feet of torque. The engine can propel the commanding luxury sedan from 0 to 60 in 4.2 seconds, all while earning an EPA-estimated 29 mpg highway fuel economy.*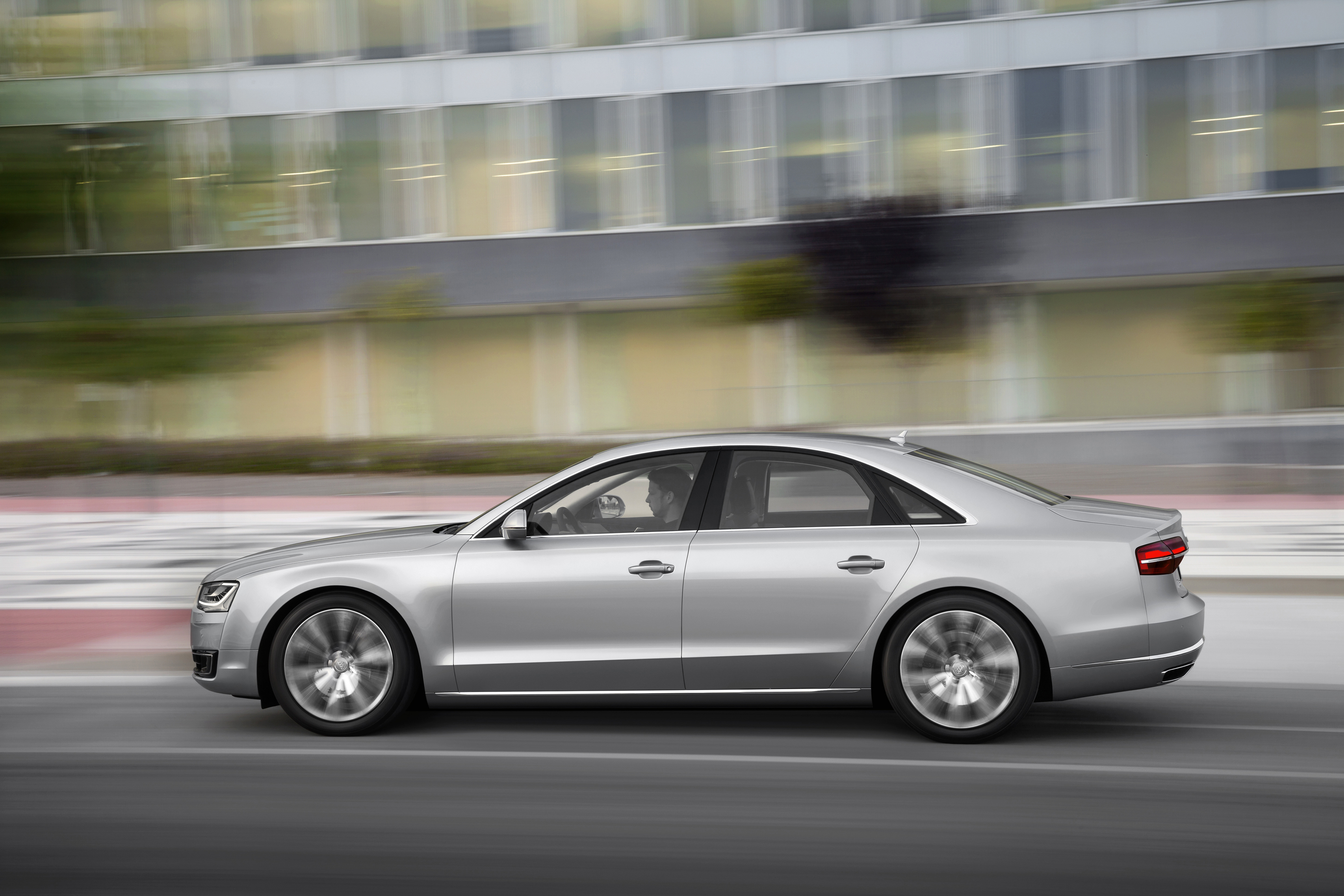 The classic W-12 Audi engine produces a staggering 500 horsepower and 488 pound-feet of torque. This output is good enough to launch W12-equippped models from 0 to 60 in 4.4 seconds.
Features and Trims
Externally, the 2016 A8 remains fairly familiar. However, the luxury sedan does come with a flashy new feature: full LED lamps in both the rear and front of the car, as well as LED puddle lights, turn indicators, and rear fog lights.
While the look of the A8 will turn heads, what makes this sedan a standout is the new technology inside. The A8 features MMI® navigation system with voice control, keyless start, stop and entry, Audi drive select, and a BOSE® Surround Sound System with 14 speakers, AudioPilot® noise compensation, and 630 watts. The MMI system has a touch pad near the driver's knee, which makes it easy for the driver to control on the go.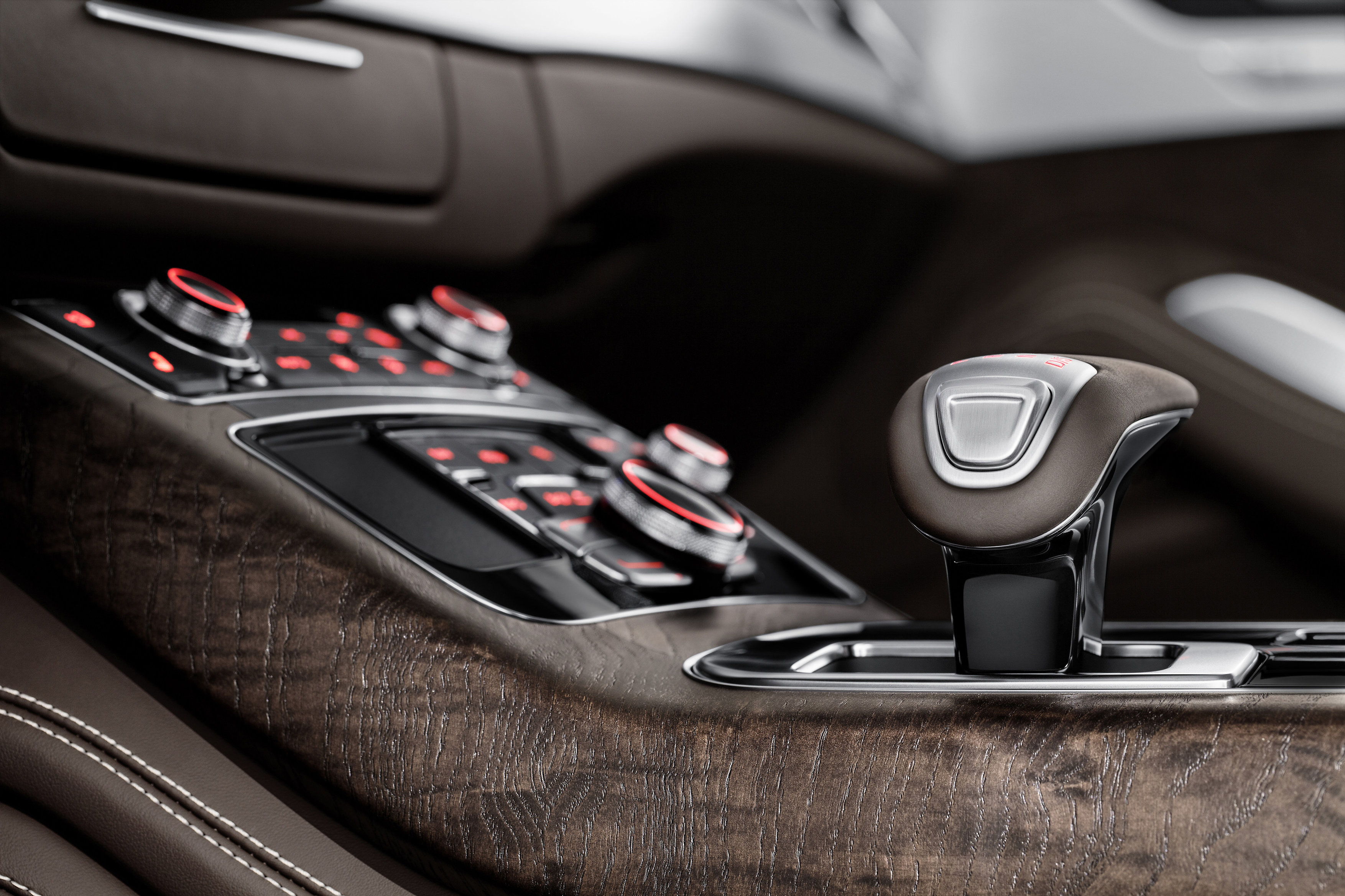 For drivers who wanted added upgrades, there are some interior add-on options: rear-seat entertainment, ventilated seats, sport tires and a leather console. You can also opt for 22-way power seats, to ensure you and all of your passengers always feel comfortable while you drive.
If you like to be connected, you can opt to sign up for Audi Connect. The service uses T-Mobile® data to create a wireless hotspot for up to eight devices for a monthly subscription fee.
Design
The Audi A8 has been recognized for being striking, with a long nose and large grille, which is characteristic of sporty sedans. The car also has brand new front and rear fascia for a look that's updated from A8s in years before.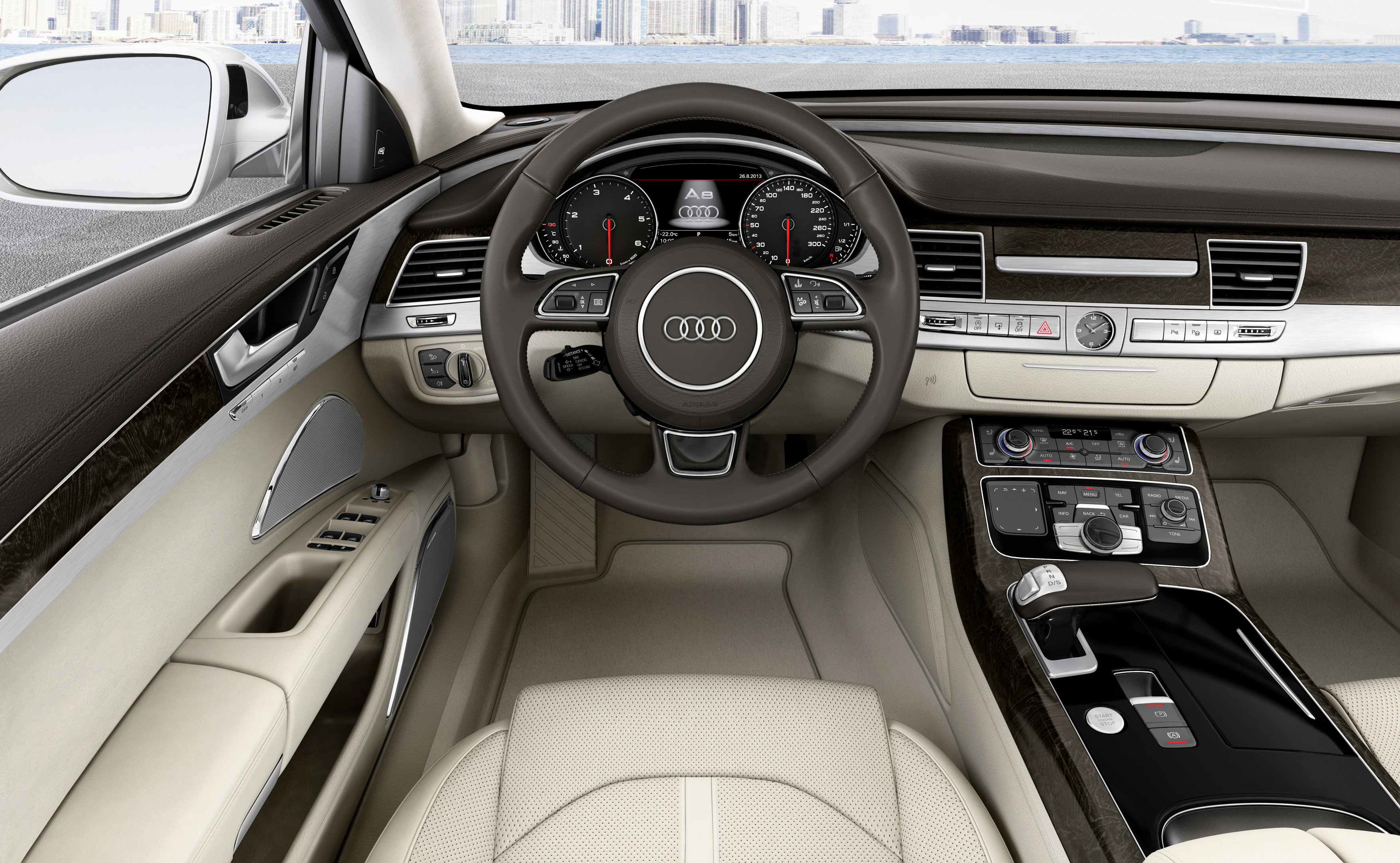 Inside, the car's cockpit can be layered with luxury detailing. Drivers have the choice to accent with wood, leather, aluminum, plastic or combine them all. With a myriad of knobs and buttons, the front seat and dash resemble a command center — exciting and powerful.
Safety
Audi's A8 is built with an aluminum frame, which means it is both lightweight and strong, which is a standout when it comes to protection. It is outfitted with the traditional mandatory airbags, as well as airbags at the front passenger's knees and at the sides of the rear passengers.
The A8 has some standard technological safety features, as well as more complex features that can be added on by buyers. The car has parking sensors, as well as an optional add-on rear view camera or surround-view camera, which can make parking in tight spaces easier. Drivers can also choose to add on safety features that are bundled in packages: cruise control with stop-and-go capability for traffic situations, blind-spot monitors, night vision and lane-keeping assistant.
Bottom Line
The Audi A8 has a reputation for being a solid, beautiful car, and this year's model does not disappoint. While there are not many drastic changes from A8s of years past, it does feature a sportier look with a few new engine choices, as well as some nice new interior options. If you're looking for a luxury car that's safe, sleek and fun to drive, this is a great car choice for you.
If you want to learn more about the 2016 Audi A8, don't hesitate to contact us at DCH Audi Oxnard.
*All fuel economy figures are estimates unless otherwise noted. Your mileage will vary. See www.fueleconomy.gov for more information.
**Prices listed are the Manufacturer's Suggested Retail Price for the vehicle and options you chose. These prices do not include transportation, taxes, title, other options, dealer installation costs or other dealer charges. Dealers set actual prices.
Image: Audi (European Model Shown)